2013 Subaru BRZ Driving Impressions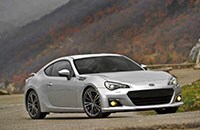 The BRZ is tossable. Tossable tossable tossable. The rewards of great balance, supported by Michelin 215/45R17 summer performance tires and triggered by a quick steering ratio of 13.12:1. Pitch this baby around, it's so much fun. Stability control will save you without stopping you; but even if it didn't, you can still recover. We tried it both ways. All five ways, in fact. Actually, we couldn't tell much difference, a sign of good stability control.
With the stability control turned off we could get the BRZ to understeer, or push its front wheels, but that only happened after it oversteered, with the tail out. But we were trying to get the tail out, because like we said it's so easy and so much fun. A Torsen limited slip differential helps give the inside rear wheel traction in corners, especially accelerating hard out of second-gear curves.
At first we thought the gearbox might be notchy, putting it into gear from a standstill, but that's the last time we noticed, or cared. It's a very great short-throw gearbox, shifting neat and hard without fail. Rare triple-cone synchronizers in first, second and third gears let you slam it from fourth to third to second and even hard down into first. What helps is the clutch action and pedal position; easiest car to heel-and-toe downshift we've come across in a long, long time. The Nissan 370Z manual gearbox might blip for you, but who needs it. It's better to do it yourself when the car gets it right every time. When you climb out of the BRZ after a good session, be sure to look down and check out the cool alloy pedals, they'll make you smile and feel like Dan Gurney.
Alas, we didn't get a chance to drive a BRZ with the paddle-shifting 6-speed with sport mode and downshift blipping. We'd buy the manual, though.
One thing is, you'll need to know how to use the clutch when pulling out from a stop on hills. Even though Subaru invented the assist where the brakes stay on for a couple seconds, so you can get your foot from the brake pedal to the gas pedal without rolling backward, the BRZ doesn't have that feature because of its clutch.
The brakes do the job quite nicely. We used them good and hard, and liked the firm pedal feel. Ventilated 11.6-inch discs front and rear, twin-piston calipers in front and single-piston in back.
The engine revs to 7400 rpm, where the rev limiter drops your nose onto the red-stitched steering wheel, so don't go there. It won't get you there terribly fast, which you might notice at full throttle on a straight freeway on-ramp, but if you're between curves on a two-lane, acceleration is just right. The two-liter flat-four engine loves being in third gear at 6000 rpm, about 70 mph, if you can find a series of curves where that's about the top speed between them. The higher the revs, the happier it is, up to 7400.
Torque is only 151 foot-pounds, peaking at a high 6400 rpm, but we never would have guessed. The torque feels more available than those numbers suggest.
We liked the suspension, both the around-town ride and out there on the bumpy curves. It's not easy to find a suspension that works in all situations, especially when you're trying to make a car that handles great in the curves, and especially again when it's not a fancy suspension with different settings. But the Toyota and Subaru engineers have done it. The ride is firm, and you can definitely feel your butt moving up and down, sometimes even dancing up and down, but it never hurts. It just hugs the bumps and feels tight. And when you want it to be stable, in switchback curves, it is.
If 200 horsepower isn't enough for you, wait another year or so, when Subaru is bound to bring out a turbocharged version. They haven't said so, but surely they will. Or go ahead and buy this one and sell it a year from now; we suspect the price will stay up there, because at its introduction, dealers were asking and getting more than MSRP because demand was so great.
* Although every reasonable effort has been made to ensure the accuracy of the information contained on this site, absolute accuracy cannot be guaranteed. This site, and all information and materials appearing on it, are presented to the user "as is" without warranty of any kind, either express or implied, including but not limited to the implied warranties of merchantability, fitness for a particular purpose, title or non-infringement. All vehicles are subject to prior sale. Price does not include applicable tax, title, and license. Not responsible for typographical errors.